TECHNIQUE | Top 5 tips for shooting at the Bosque del Apache
The Bosque del Apache is world famous for its concentrations of migratory birds. For two of us (Albuquerque natives Doug and Keith), it's our backyard. For the other (Greg), it's a place that couldn't be more different from where he normally shoots in the rainforests of Costa Rica – the wide open spaces and sheer numbers of birds at the Bosque are a rush! For all of us though, it's a place we can go back to numerous times and still make creatively fresh images.
Established in 1939 and managed today by the US Fish and Wildlife Service, the Bosque del Apache National Wildlife Refuge is comprised of 57,331 acres located along the Rio Grande at the northern edge of the Chihuahuan desert. Photographers and other visitors have access to a core area of nearly 13,000 acres for viewing and photographing birds and other wildlife. The rest of the Refuge is made up of arid foothills and mesas, which rise to the Chupadera Mountains on the west and the San Pascual Mountains on the east. Most of these surrounding desert lands also are preserved as wilderness areas. This beautiful setting provides habitat and food for as many as 14,000 Sandhill Cranes during the winter months. Cranes begin arriving in November and stay on the Refuge as late as the end of February. The Refuge is also home to over 32,000 Snow Geese and Ross's Geese, as well as dozens of Bald Eagles, Great Blue Herons, Avocets, the occasional Pelican, and many other birds. Coyotes, Mule Deer, and Mountain Lions also are found on the Refuge.
We think the goal of any visit to the Bosque del Apache is to produce an eye-catching portfolio that captures the essence of this special place. That means tight shots of flying birds, of course, but it also means portraying different kinds of motion and taking some pictures that set the scene. Helping our clients to produce a diverse portfolio in this vein is, in fact, the focus that we have each year when we lead our Bosque del Apache workshop. Following, then, are our top 5 tips for capturing the essence of the Bosque!
Tip 1 - understand exposure
Manual exposure is a key ingredient for bird flight photography, and there's no better place than Bosque del Apache to get comfortable with manual mode. In flight photography we want our avian subjects to be properly exposed at all times. If you shoot the fly-out in one of the priority modes (e.g., AV or TV), your exposure will vary greatly based on the changing tonality of the background behind the bird. You'll get one exposure when you photograph the bird against a water background, a different exposure when the bird takes flight against a mountain background, and a third exposure when the bird is flying against a background of blue sky.
Crane in flight shot with a lighter mountain background with manual exposure to insure a properly exposed bird.
Canon 1D Mark IV, Canon 600 mm, f/4, handhled, f/4, 1/500, ISO 1000
Manual mode allows us to set the proper exposure for our subject and ignore the the influence of the background entirely; set it and forget it! Once you've dialed in the correct exposure for a crane, as long as the light doesn't change the bird will be properly exposed against any and every background. The Bosque usually lends a hand by bathing cranes and geese in a constant level of sweet New Mexico sunlight during most of the morning fly-out.
Cranes against a golden background in early morning light. Exposure was dialed in before the cranes took flight using manual exposure.
Canon 1D Mark IV, Canon 600 mm f/4 plus 1.4x TC, handhled, f/7.1, 1/2000, ISO 400
Tip 2 - focus your attention where it counts
The Crane Pools are filled with thousands of Sandhill Cranes and Snow Geese during the morning fly-out. At times it can be overwhelming trying to figure out where to point your camera! Thankfully there is a way to bring order to the chaos. Cranes (as opposed to geese) have created their own version of an air traffic control system. Each bird broadcasts its intent to fly by leaning forward and lowering its head. It then checks its surroundings for other birds wanting to take off. The bird with its head in the lowest position usually takes off first, typically followed by a small group of surrounding cranes. By focusing your attention on the birds that are preparing to take flight, you'll maximize your chances of getting spectacular flight frames.
Crane on his initial take off run. The crane was isolated by paying attention to take off cues.
Canon 1D Mark IV, Canon 500 mm f/4 plus 1.4x TC, handhled, f/5.6, 1/1000, ISO 800
It's always a good idea to pay attention to behaviors of the subjects. This crane dispute created a dynamic image. Manual exposure allowed Doug to nail the light for the main subjects in this tricky scene.
Canon 1D Mark IV, Canon 600 mm f/4, handhled, f/4, 1/1250, ISO 800
Tip 3 - slow it down
Following from the previous tip, there are times when we want to give the feeling of motion but either don't want to freeze action or perhaps have to deal with close backgrounds or surrounding birds that can be distracting. By slowing things down and panning along with our main subject, those same extra birds or branches or reeds that were a distraction in a standard shot now become complementary abstract shapes and lines.
Faced with Sandhill Cranes taking off from the middle of the pack, Greg chose to go for a blur to minimize distractions and allow a single bird's motion to shine through in the coppery, early morning light.
Canon 1D Mark IV, Canon 500 mm f/4, 1.4x TC, handhled, f/14, 1/30, ISO 50
The technique for pan blurs of any bird is exactly the same as it is for sharp flight shots. We need to acquire the bird, maintain focus, and follow through while shooting as the bird moves across our field of view. The difference, of course, is that we are using a slower shutter speed. The result might be an abstract blur or it might be a decently sharp bird with a blurred background. The slower the shutter speed, the more the abstraction.
Greg likes shutter speeds around 1/8 for a really painterly look and 1/60 for sharp birds with obviously motion-blurred backgrounds. There is a lot of trial and error involved with this technique, and the probability of success is lower than blasting away at fast shutter speeds, but the results can lend some drama to any bird in flight image and will be a welcome addition to your portfolio.
Greg chose to go for an abstract shot of one of the famed blast-offs where thousands of geese suddenly take flight. Camera movement during the pan resulted in a brushstroke on canvas type of effect.
Canon 1D Mark IV, Canon 500 mm f/4, 1.4x TC, handhled, f/45, 1/6, ISO 50
Tip 4 - look for more than cranes and geese
The Bosque del Apache is a magical place, and great landscape and plant images are there for the making. Take a break from the birds and put on a smaller lens to look for shots of the late fall colors, mountains, and skies of the Bosque. If the birds are there, include them as a compositional element. Remember, not every good Bosque picture has to be all about the birds! As the sun begins to set behind the Chupadera Mountains, keep your eyes open for dramatic light.
Dark skies and a break in the clouds produced a spotlight in a great place for this image that Keith took while driving around one of the lesser visited areas of the refuge.
Canon 5D Mark III, 70-200 f/4 L IS @ 200mm, 1/1000 @ f/7.1, ISO 200
Sunrises and sunsets at the refuge are almost legendary when they light up the sky. This image was from a fiery sunset over the Chupadera mountains. It's always a good idea to have a wide angle lens ready or have one mounted on another camera body.
Canon EOS-M, 18-55 @ 18mm, 1/250 @ f/9.0, ISO 400
Though there were lots of birds flying around, Greg's eye was drawn to a group of geese, a curving line from a service road, and some dramatic afternoon light and clouds over the mountains. Shooting for a panoramic gave a nice sense of the wide open spaces that characterize the Bosque.
Canon 5D II, Canon 70-300 mm f/4-5.6 L zoom lens, polarizing filter, handheld, six vertical images at f/13, 1/500, ISO 400 and stitched in Photoshop CC
Tip 5 - keep shooting after the sun goes down
The area in and around the refuge has beautiful clear skies. Timing a night shoot, as we did with our workshop group last year, can yield some great starscapes. We were fortunate in 2013 to have Venus in a good location to add interest to the night sky as well as a clear Milky Way. On our workshop again this year, we'll work with participants to learn about the art and technique of night sky photography.
This image used one of the ponds to create a foreground element, and the Chupadera Mountains, Venus and of course the Milky Way combined to create a cool shot of the night sky over the Bosque.
Canon 5D Mark III, 24mm f/1.4L II, 20 seconds @ f/2.0, ISO 1600
Though the sun had gone down, Greg kept shooting as Sandhill Cranes continued to land for the night. A crescent moon provided a cool backdrop.
Canon 1D Mark IV, Canon 500 mm f/4, handhled, f/6.3, 1/60, ISO 1000
We hope that this article gives you some ideas for your next visit to the Bosque del Apache. If you are interested in joining us this December, Keith's site. We work hard to help you to improve your skills and take home a great portfolio!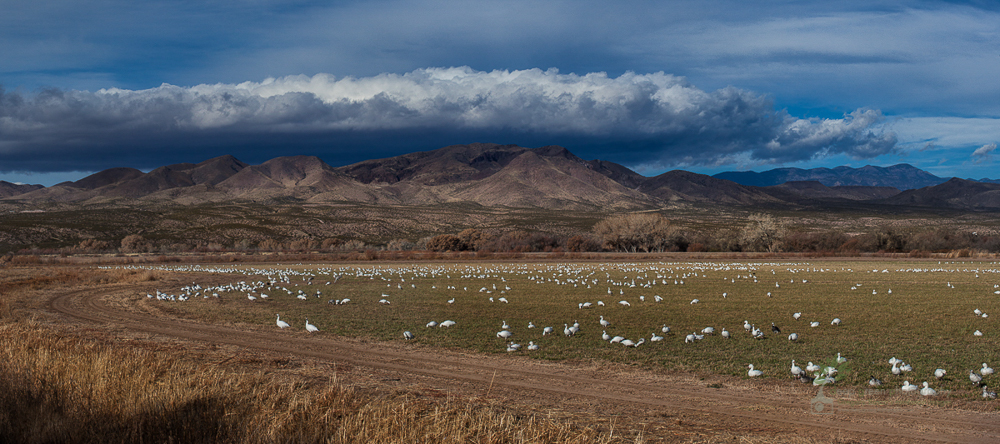 After the workshop last year, Greg, Doug, and Keith felt like champions.
A few seconds later, however, our minds drifted to other matters.